Long before the advent of so many wonderful American fashion designers, there was a young woman with a sharp eye, profound creativity and a punchy wit. For more than 40 years, Sophie Gimbel presided over couture at Saks. The first American designer (male or female) to grace the cover of TIME magazine (1947), she scoured the globe for inspiration and fabric. But at a time when the fashion world embraced Paris and Milan, and dismissed the U.S., Sophie always returned to New York to design with American style. She was also a savvy businesswoman and an avid gardener (who even canned her own fruits and vegetables). She loved entertaining (at home and at a New York City nightclub in which she invested), embracing a simple style in all she did.
We have not created a museum of Sophie, but we are inspired by her story and her spirit. Sophie once commented,
"I like my wardrobe simple, correct, perfect in every detail."
And that's the way we like our food!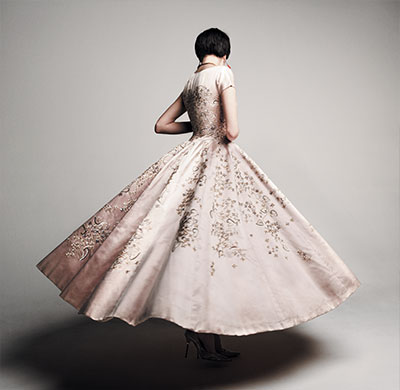 Sophie Gimbel design above:
Hand-embellished evening dress with cap sleeves, 1953.
---
Home Page:
Sequined evening sheath with confectionary tulle overskirt, 1958.